The Bazaar brings you all kind of goodies at AWAKE Festival:
These t-shirts have been creating their own identity step by step – the final product is a beautiful selection of Romanian traditional elements and motifs designed to look authentic on 100% cotton t-shirts for both women and men. Find their products on their website.
MadamMitza happy colorful socks
Since 2015, MadamMitza brings to the socks lovers all types of colorful, cosy and funny, made in Romania, socks. Whether you are wearing a cheeky dress on a bike or summer festival shorts, MadamMitza socks are daring and offer your outfit a colorful spot – find them at www.madammitza.com.
Sacpartout bags made with love
Compact bags, flexible bags, everything-fits bags – Sacpartout comes with the concept of love made accessories. Leather crafted goods, made with mother love, they got that Instagram look for every type of event. See them on Facebook, buy them from the website or at AWAKE.
Picnic la palat <3 #readyforpicnic #picnictime #gooutside #takeawalk #ingoodcompany #waistbag #atthepalace #leatherwaistbag #getyours

Posted by Sacpartout on 30 Iulie 2017
temporary tattoos by Flash Tattoos
Creativity is yours, just picture it and they will help you do it. Flash Tattoos is the summer trend and a temporary tattoo should not be missed during a festival. Choose what represents you and make a great summer accessory out of it. It will also remain as an AWAKE memory for your social media!
wood accessories by Differenzial Kraft
The design and art studio offers a range of different kind of accessories. Using wood and unique templates, exploring beyond the precious metals, the shop is looking to incorporate some alternative materials. Creating an inclusive and practical design is what they are focusing on and you can get an insight of the products on their page, before you buy your set of jewelry at AWAKE.
clothing, caps and fanny packs by Nerv
Find your attitude in one brand. Defining street wear, Nerv is focusing on adding a style that doesn't adhere to the standards, but brings a new comfortable identity. Feel at home in a concrete ridden city with their collections, when you get back after the festival. We bet you'll find some lit clothing at their stand in the BAZAAR. Check 'em out!
a rich collection of board games brought to you by Ludicus
Chill and play some board games with your friends in the Forest Lounge, by the lake or in the camping. Pre order or buy your games at the festival – in case you didn't bring them from home, Ludicus got your back. Keep your mind in the game and don't forget! It's all about luck, strategy and diplomacy. See what you can choose from on their online shop!
bags, wallets and leather accessories branded by ZIG Leather
Minimalist is being combined with a contemporary style by Ionut and Georgiana in their own studio, where they design leather products with passion and dexterity, from raw materials of the highest quality. The products are created manually to meet everyday functions and resist in the years to come. Find more about ZIG Leather at AWAKE and online!
accessories by Devla Accessories
Ever recycled your computer keyboard? Devla Accessories did it for you, and transformed the little keys into colorful, lively accessories: brooches or magnets, you will wanna take one adorable character with you, at home! Keep these as a reminder of the Graden of Music and Arts – it will bring back great memories and look nice on your fridge. Cuteness overloaded here!
A project that starts on a rainy day with a cup of coffee is a good project! Magic Mint t-shirts are a combination of passion for art, painting and design. These handmade tops transform your wardrobe into a unique, personalized spot to choose your daily energy from. Follow Alexandra, the architect of this magic factory, and her online shop and think about how you'd like your t-shirt to look.
accessories by Lehel Jewelry
Every jewelry brings back a memory, a story you want to always remember and a feeling you don't want to forget. 3D Jewelry is introduced at AWAKE by Lehel Jewelry; it's made out of recycled silver and is given a special minimalist design, with small handmade details. Maybe look for a ring, you never know if you find your true love at the festival! Follow them on Facebook!
Supporting and encouraging the artists, whether they are new comers or well-known, is the main goal of Dark Side. The shop is helping bands grow while offering the fans an opportunity to purchase their favorite merchandising and showing the love! Come by our AWAKE merch stand to meet the guys! In the meantime, decide over your t-shirt choices at www.merch.dark-side.ro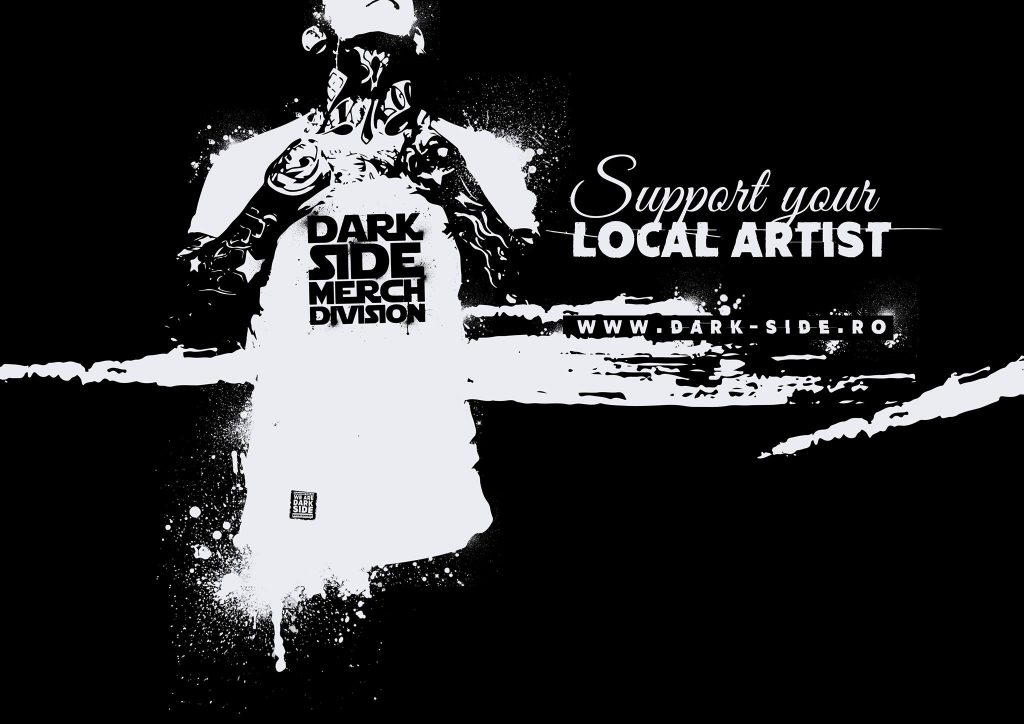 Hopefully, your 3 day vacation will be full of artistic moments, dancing and shopping creativity. Join us to check the last nonconformist trends and acquire some nice festival memories! Connect with our vendors on our facebook event and share your BAZAAR experience!