Plus festival schedule and day tickets
Knife Party is the newest name that will join our artists for the first edition of Awake.  The band will be the headliner for the first festival day, while other over 30 artists will perform on the other stages around the park of Teleki castle in the first weekend of September. The festival schedule will be available today on the www.awakefestival.ro website, and moreover starting with today, day tickets can be purchased at the presale price of 79 lei.
The Australian duo of electronic music, Knife Party, will be coming to Romania for the first time, but both members, Rob Swire and Gareth McGrillen, are very familiar with the Romanian audience thanks to being part of the group Pendulum, headliner of B'ESTFEST Summer Camp 2011. They met in 2002, and since then stared to work on more musical projects together, when in the end the laid the foundations of the group Pendulum. Knife Party started as a secondary project, in 2012, but the success of the new formula determined both to focus more on its future. Knife Party was included in the top of the 100 best DJs by DJ Magazine, and collaborated over time with artists like Swedish House Mafia, Steve Aoki, MistaJam, Foreign Beggars, I See MONSTAS, Tom Staar or Tom Morello. Rob Swire and Gareth McGrillen have released 5 Eps and an album together, Abandon Ship (2014), which went to number two in the US Dance Chart, and the duo started frequently being headliners for more music festival line-ups.
Knife Party will perform in the first day of the festival, the same day as Aeroplane and Alternosfera, while on Saturday bands like Subcarcapti, Modestep and Mazde will play, and the end of the festival will be marked by shows from Tom Odell, Dirtyphonics, Axel Thesleff and Coma.
The detailed schedule of both main stages will be available below: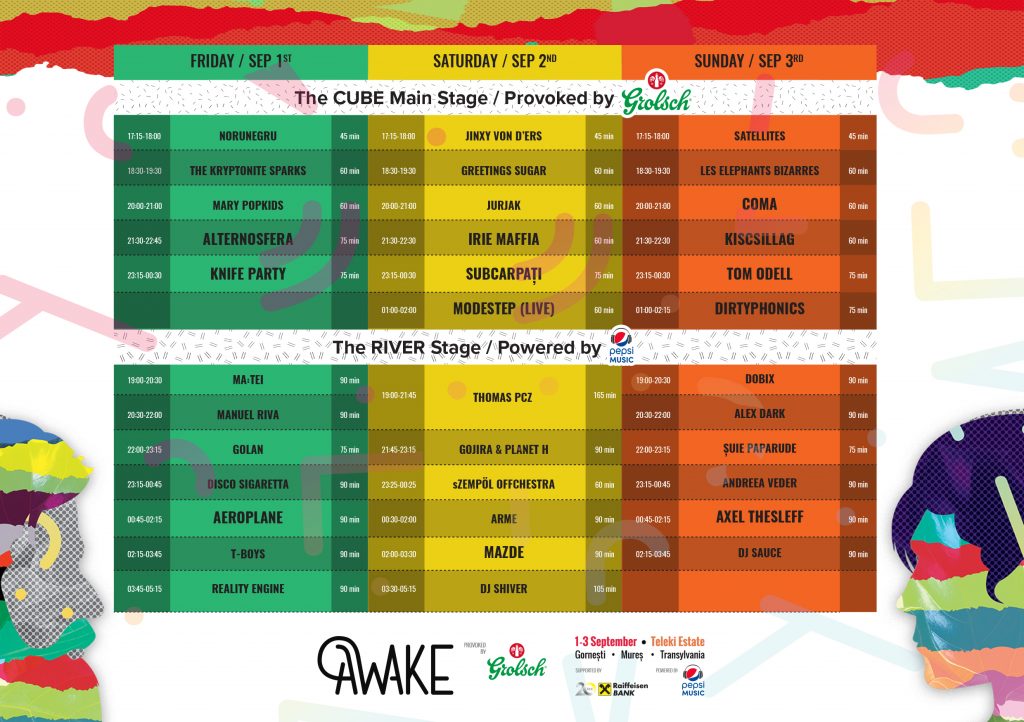 Also starting today one day tickets will be available. The price is 79 lei in presale and can be purchased from www.eventim.ro . During the event, the tickets will also be available at the entrance at the price of 99 lei.